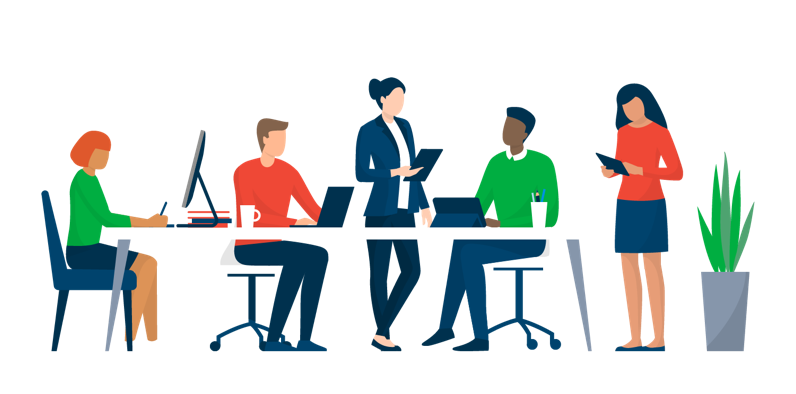 The hiring process is an integral part of running any business. Whether you are a small business owner, an HR manager, or the CEO of a large company, you will have to recruit at some point in your career. Hiring can be tough on its own. Recruitment is a core function of the Human Resource department. It is a process that involves everything from identifying, attracting, screening, shortlisting, interviewing, selecting, hiring, and onboarding employees.
The recruitment teams can be large or small depending on the size of an organization. However, in smaller organizations, recruitment is typically the responsibility of a recruiting manager.
Many organizations chose in outsource recruitment services, while some companies rely exclusively on advertisements, job boards, and social media channels to recruit talent for new positions. Many Recruitment Agencies in India today use recruitment software to make their recruitment process more effective and efficient.
Steps below help you out in building the right hiring process
Develop a Clear Employer Brand
Your employer brand is what will set you apart from other companies and show candidates why they should work for you. It should reflect your business' mission, culture and values. Think about questions such as, "Why would someone want to work for this company?" and "What percentage of your employees would recommend your company as a great place to work?" From there, check that your business' about pages, social media, and advertisements align with your employer brand.
Job Posts
Once you know exactly what you need in terms of knowledge, skills and experience, it is time to determine the duties and responsibilities of the job. Preparing a comprehensive job description will help you know what your potential employees must have in order to meet the demands of the role. More importantly, it provides your prospects with a checklist or a list that they can compare themselves to before applying. It is a tool to ensure that you get applications from the right candidates.
Testing candidates
This will be the next step and generally involves testing candidates for job skills or knowledge to determine whether the candidate is qualified for the position. Tests might include personality tests, skills tests and physical tests. Recruitment Consultants in India chose several candidates and sent them all for testing. Once he receives the results of the testing, he will narrow down the selection to fewer candidates.
Use Social Media
Social recruiting is becoming increasingly popular as companies begin targeting millennial. Social recruiting is simply using social media to find talent, advertise jobs, and communicate with potential candidates. Many brands have been successful with this technique, including Byjus, Apple and Ola! Be sure to create a presence on social media that will align with your values and employer brand.
Explore Niche Job Boards
Depending on what job you are hiring for, it may be difficult to find talent on one of the many large job sites. If your company falls into a smaller, more defined category, try looking into niche job boards. These are smaller job sites that are devoted to only one type of job and often have a community of job seekers and recruiters. You can find niche job boards covering everything from the engineering industry to medical.
Passive Talent Search
Identifying the right talent, attracting them and motivating them to apply are the most important aspects of the recruitment process. The job listing should be advertised internally to generate referrals as well as externally on popular social networking sites and preferred job boards. Like, Recruitment Consultants in India also conduct job fairs and promote openings in leading industry publications to cast a wider net.
Interviews
Interviews are scheduled next. An interview is a meeting between the job seeker and the employer to evaluate whether the candidate has the right qualifications for the job. Although with a good idea of whether the candidates would be right for the job, the face-to-face interview will tell him more about the candidate, like personal hygiene, timeliness and manners. Once the interviews have been completed, candidates will be selected on the basis of the results of the testing and the interview. This step will narrow the pool of candidates down even more. A set of pre-determined criteria is developed and may include skills, knowledge, experience and education.